Name
Model
Manufacturer
Brochure
Price
Call for pricing
Questions?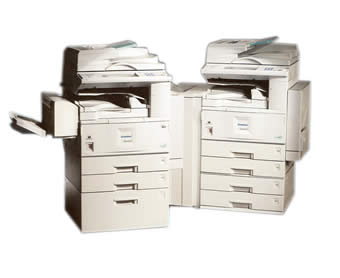 (22ppm, 600dpi)
Overview

Streamlining document management for ultimate productivity
Today's fast-paced offices and workgroups cannot afford to ignore the importance of efficient document management…so vital to productivity, not to mention your bottom line!
The advanced, yet compact, Gestetner DSm622sp arms your office with impressive 22 page-per minute out-of-the-box network scanning/printing and copying. Enabling you to move easily between tasks, this digital imaging system makes document creation and production a snap, plus assures effortless distribution of hardcopy and electronic files. Or, maybe all duty calls for right now is walk-up hardcopy imaging. The versatile Gestetner DSm622 empowers your office by letting you conveniently scan multi-page documents into memory once, swiftly output multiple sets at 22 ppm, and always enjoy crisp-looking documents boasting 600 dpi resolution. Designed to meet the future demands of your growing business, the DSm622 allows you to add scanning/printing and faxing options as needed. Offering superior performance, reliability and affordability, this all-in-one solutions is ideal no matter what your imaging/output requirements
General Features
Automatic duplex imaging that does not affect imaging performance.
Three different document finishing options to choose from.
Large touch sensitive LCD operator panel with an intuitive graphical user interface.
DataOverwriteSecurity System (DOSS) provides safe, secure, and reliable solutions to protect your classified and confidential information.
Copying Features
Scan Once Print Many to maximize the output performance.
Copy features like cover insertion, page designation, and stamping to reduce manual interaction and increase productivity.
Optional 50-Sheet ARDF for automatic feeding of documents (one- and two-sided)at engine speed.
600 dpi resolution with up to 256 levels of gray.
Electronic/Rotate sorting produces complete document sets and eliminates manual collation.
Printing Features
Exceptional 600 dpi printing at 22 pages per minute.
Standard Ethernet and parallel ports with high-speed serial and wireless networking options.
Standard PCL 5e/6 emulation and RPCS print drivers with optional genuine Adobe PostScript 3.
Complete access to duplexing and any attached document finishing options.
Scanner Features
Embedded Scan to E-mail, Network Scan to Folder, Scan to FTP Server makes document distribution easy and economical, as there is no delivery server required.
LDAP with SMTP Authentication.
Network TWAIN scanning is also available as an alternative scanning solution for networked users.
Documents are scanned to the most popular file formats, including PDF, TIFF, or JPEG.
Fax Features (Optional)
Up to two G3 fax lines can be configured to support simultaneous fax transmission and reception in high volume environments.
LAN-faxing for electronic routing of incoming faxes as well as sending faxes from the desktop without generating a hardcopy original.
Internet Faxing (T.37) feature allows combination of phone numbers and email addresses to be send out in the same broadcast.
Incorporates all of the same capabilities and convenience features as dedicated fax systems.
Optional JBIG kit compresses files sizes to a minimum before transmitting to reduce transmission costs.