Name
Model
Manufacturer
Brochure
Price
Call for pricing
Questions?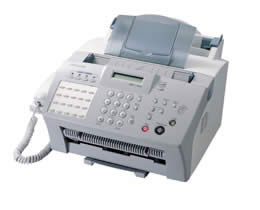 The Samsung SF-555P is a good home office solution for the budget minded. It prints 12 pages per minute at 600 DPI. The fax transmits at 33.6KBPS. This multifunction printer can also make coppies at 12 pages per minute. With the integrated hand set, the SF 555 P can also be used as a phone. For small office, light duty situations, this multifunction printer is a good solution.
Features
Be versatile. Be efficient. Be productive.
Fax Broadcasting Transmit the same document to several locations without having to refeed your original.
Fax Forwarding Never miss an important fax. You can forward important documents to a fax machine that you'll be near.
Copy Zoom Enlarge or reduce original images from 50 – 200%.
Scan Graphics 64-level gray scale provides excellent photo reproduction.
Standard Parallel and USB Ports Lets you print from and scan to your PC much faster than with a traditional serial interface. TWAIN-compliant drivers are standard.
Scan to Email You can easily send scanned images as attachments to email.
Scan to OCR (Optical Character Recognition) Scan printed originals to create a text document which can be edited in Microsoft Word or other word processor application.
SmarThru 3 Software This included software lets you work more efficiently with four-in-one versatility. It acts as an email client, provides a scanning software package, serves as an image editor and provides scan to email.
Push-button savings
TollSave (Delayed Transmission) Send a document at a later time to take advantage of lower phone rates.
PaperSave Receive and print two images of incoming faxes or copies on a single page.
TonerSave Extends the life of your toner cartridge up to 40% when used consistently.
PowerSave Saves money by shifting to PowerSave mode at a preset interval.
A reliable, low-maintenance worker.
Straight-Through Original Paper Path An advanced gravity-fed design that dramatically increases reliability and reduces misfeeds.
Low Toner Notification Automatically faxes a notice to your supplier when your SF-555P is running low on toner, so you don't have to keep track.
Transmission Confirmation Report User-selectable feature automatically prints a confirmation report that includes an image of the first page when there's a fax transmission error, which is helpful when several people use the fax.
Battery Back-up Allows memory reception, which will let you print incoming faxes at a later time in the event you run out of paper or experience a power interruption.
Security Mode Lets you set allowable fax times to reduce unauthorized transmissions.
The simpler the better.
One-Touch Speed Dial Programming Store oftendialed numbers, then fax to them with a single push of a button.
Help List A basic list that can be easily printed, in case the original manual is ever misplaced.
Remote Programming Gives you the option of programming speed dials, date, time and other data from your PC, instead of having to push all the individual buttons on the fax.

We also carry: