Name
Model
Manufacturer
Brochure
Price
Call for pricing
Questions?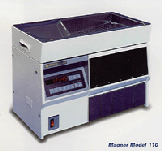 The Model 100 takes the big investment out of small change processing without sacrificing quality or accuracy. New sophisticated electronics, automatic shut off, large inspection tray, compact size Subtotal batch accumulation of 5 denominations ($.01, .05, .10, .25, 1.00) with Grand Totals provides high performance, high throughput, low maintenance and ease of use.
Models 100
Counting Speed: Approximately 600 coins per minute Hopper
Capacity: 1000 dimes Coins Sorted, counted and accumulated in totals: $.01, .05, .10, .25, 1.00
Display: (6 Digit LED model 100) (7 Digit LED model 110)
Counting Method: Optical Sensors
Sorting Method: Gravity Rail
Memory: 2 Level plus individual denominations (Battery backup model 110 only)
Dimensions: Width 19.5", Height 14.25", Depth11.25
Net Weight: 45 lbs.
Power Source interface capability: RS232 Port Standard on model 100(Option on model 100)
Low Volume (very low vol.)
Approx. 500 coins per minute
Counts, Sorts, and Accumulates Totals in 01, .05, .10, .25, .50
7 Digit LED Display
Sorting Method: Gravity Rail
14.5"H x 20"W x 11.25"D
Weight: 50 lbs.
We also carry: