Name
Model
Manufacturer
Brochure
Price
Call for pricing
Questions?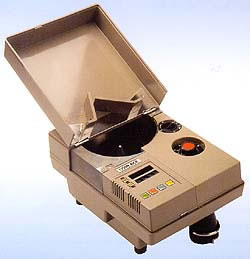 The Model CS-20 counts a single coin denomination at 2,000 coins per minute and produces either coin rolls or bagged coin output. The unit offers operator adjustable precise bag stops, simple adjustment for denomination change over, and small coin off-sort for non-stop processing. At only 15 pounds this product is both highly portable and extremely reliable. Options include a carrying handle, an off-sort bagging attachment, and coin tubes for the six US coin denominations.
The CS-20 can process coins or tokens from 14mm in diameter to 34mm in any quantity (1- 9999) with exacting precision.
Counts 2,000 coins per minute
LED Display
Electro Mechanical counting device
Hopper capacity: 1,500 coins
Carrying Handle
OFF Sort Bagging Attachment
Coin Tubes: .01, .05, .10, .25, .50
5.9"H x 8.8"W x 12.6"D
Weight: 15.3 lbs.
We also carry: